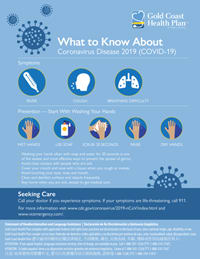 Gold Coast Health Plan (GCHP) is monitoring the developments of COVID-19. Your health, wellness and safety are important to us. During this pandemic, we will keep you informed with the latest recommendations and help you navigate the health care system.
GCHP members can now access the Advice Nurse Line 24 hours a day, seven days a week at 1.805.437.5001. The toll-free number is 1.877.431.1700.
GCHP created this tip sheet to help you when you talk with your health care provider by phone or video. (English and Spanish)
What to Know About Coronavirus Disease 2019 (COVID-19) (English and Spanish)
Frequently Asked Questions for Gold Coast Health Plan Members (English and Spanish)
COVID-19 Resources for Members (English and Spanish)
The FDA is warning consumers of the risk of methanol contamination in certain hand sanitizers. Learn more (English and Spanish).
Resources
Mental Health Resources
If you or someone you know is having a mental health crisis, call the Ventura County Crisis Response Team at 1.866.998.2243. The team is available 24 hours a day, seven days a week.
Beacon Health Options: GCHP's mental health services provider is available to help you if you think you need treatment. You can schedule a mental health assessment by calling 1.855.765.9702. If you use a TTY, call 1.800.735.2929.
California HOPE(CalHOPE): CalHOPE delivers crisis support through free outreach, crisis counseling and support services. If you are feeling stressed by the COVID-19 pandemic, call the CalHOPE Warm Line at 1.833.317.4673.


General
A.A. / N.A.
For someone who struggles with an addiction, staying sober can be hard even in the best of times. With the added stress and loneliness caused by the COVID-19 pandemic, it is even harder. Support groups can help with staying sober in times of stress. Please know that virtual groups are still meeting.
Support groups are available in English and Spanish for those dealing with an addiction:
Dental Appointments During the COVID-19 Pandemic
As a Medi‑Cal member, your benefits and your child's benefits include dental coverage at little or no cost to you. During the COVID-19 pandemic, only emergency dental care is allowed.
What is a dental emergency?
Bleeding that doesn't stop.
Pain or swelling in or around your mouth.
Broken or knocked out tooth.
What should you do?
Call your dentist's office first.
Provide as much detail as possible about your condition.
Follow your dentist's instructions.
Resources
Free, Low-Cost Resources and/or referral services for emergencies:
For Parents
For Seniors